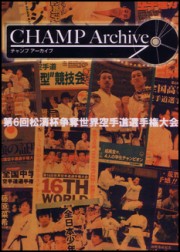 DVD WORLD SHOTO CUP 1983 IAKF 1985 JKA 1996 JKA 1998 JKA 2000 JKA
Now availables in DVD the images of the World Cups SHOTOKAN JKA of the years 1983, 1985, 1996, 1998 and 2000. 1983: 4th World Cup IAKF Egypt 60 min. 1985: 1st World Shoto Cup JKA Japan 55 min. 1996: 6ª World Shoto Cup JKA Japan, 90min. 1998: 7th World Shoto Cup JKA Paris 90 min. 2000: 8th World Shoto Cup JKA Nippon Budo-Kan Japan 90 min.
Twittear
The prices shown here are before VAT. If your shipping address is within the European Union, the following VAT will be added: 4 % for books and 21 % for all other articles. VAT will not be charged if the shipping address is outside the EU.
Sizes, colors or available options:
CUP 1983 IAKF PAL 60 min., ACMP-908
SHOTO CUP Japan 1985 JKA PAL 55 min., ACMP-909
SHOTO CUP Japan 1996 JKA PAL 90 min., ACMP-981
SHOTO CUP Paris 1998 JKA PAL 90 min., ACMP-982
SHOTO CUP Japan 2000 JKA PAL 90 min., ACMP-983
Other products of same category
::