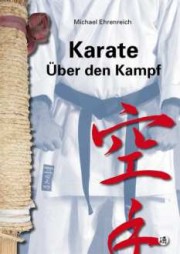 Book Karate über den Kampf, Michael Ehrenreich, german
Book Karate über den Kampf, Michael Ehrenreich, 242 pages, german. Veredeltes Paperback, ledergenarbte Folienkaschierung. Dieses Buch wird Ihr Training verändern! Michael Ehrenreich begann 1978 mit dem Shôtôkan-Karate und unterrichtet seit 1986. Von 1992 bis 1997 war er als Mitglied der Deutschen Karate-Nationalmannschaft erfolgreich und gewann viele Titel, auch international. Vizeweltmeisters JKA 1994 in Philadelphia Kumite-Team. Diplom Studium an der Deutschen Sporthochschule Köln 1994. Stipendiat der japanischen Regierung und von 1998-2002 in Japan an der University of Tsukuba wo er den "Masters Degree" in Sportwissenschaften ablegte. Seit 2002 Vorsitzender der Selbstverteidigungsorganisation "Force Option" für den Bundesstaat Georgia, USA. Es handelt sich hier um ein provokantes und fundiertes Werk indem Michael Ehrenreich die Leser an seiner über dreißigjährigen Karate-Praxis teilhaben lässt. Über 200 Übungen auf über 600 Fotos beschreiben seine Vision eines effizienten, harten Karate-Trainings wo viel Makiwara, Pratzen und Sandsack benutzt wird. Die Leser finden konkrete Anweisungen zum Gebrauch des Makiwara, der Pratzen und erlernen effektives Schlag- und Tritttraining! Ein frischer Wind für viele traditionelle Karate-Dojos! Desweiteren detaillierte Erläuterungen zum Kumitetraining mit einem und mehreren Gegnern, Nahkampf, Druckpunkte, karatespezifische Kraftübungen, uvm.
Twittear
The prices shown here are before VAT. If your shipping address is within the European Union, the following VAT will be added: 4 % for books and 21 % for all other articles. VAT will not be charged if the shipping address is outside the EU.
Other products of same category
::